6 Easy Ideas to Share Yalda in Your Child's Classroom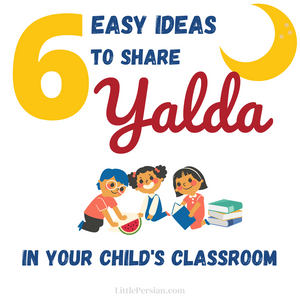 Have you ever considered sharing about Yalda at your child's school? Many schools and classrooms encourage sharing about special holidays and traditions that families celebrate and Yalda is often overlooked.
If you don't feel comfortable making an appearance yourself you could offer these ideas and resources to your child's teacher, who will likely be happy to have an opportunity to share a lesson about cultural diversity. Send a quick email and then offer to send the items in ahead of time so your child's teacher has time to review the materials and prepare. We've even created a FREE resource called the Yalda Classroom Kit.
Here you'll find six easy ways to excite and engage kids as they learn about Yalda.

1. Read a book about Yalda
Yalda Night Celebration by Anahita Tamaddon is a wonderful book to introduce Yalda to young children as it covers many of the popular traditions and significance behind them. The book is bilingual with Persian and English. Another great option is Shahnameh for Kids which features several storis of the Shahnameh translated into kid-friendly illustrated books. 
It would be nice to leave your child's classroom with some books on loan about the subject. Children could enjoy books about the seasons and older children could learn about winter solstice and understand the science behind it. Most libraries will collect books on desired subjects if you notify the children's librarian ahead of time.
2. Provide a Yalda craft
Provide an idea, materials and a sample of a Yalda craft. If you will be presenting to very young children, consider doing some prep work to make the process go more smoothly such as cutting out pieces ahead of time. This very simple watermelon dot painting would be very easy to facilitate. Find plenty of craft ideas with directions, photos and templates in the Yalda Activities Digital Download.
3. Set up a child-friendly Yalda sofreh
Bring a sofreh and some of the common items seen on a Yalda sofreh. As you show each item, tell about its significance and display it where all can see. Try to include items that you could leave for the day and would be okay with children touching such as whole fruits, a battery operated candle, a kid-friendly book and perhaps a backgammon board. You'll find a Yalda sofreh checklist for kids to make their own holiday display in the Yalda Activities Digital Download.
4. Give a coloring page + Yalda themed snack
After a presentation, it's nice to give children time to process the information and converse with one another about what they have learned. A Yalda coloring page is a great conversation starter and provides closure for the lesson. Find the coloring pages above in the Yalda Activities Digital Download or find another in the FREE Yalda Classroom Kit.
While children color, you can provide a Yalda themed snack such as ajil. If there are strict guidelines on sharing snack, a premixed, individually packaged dried fruit and nut mix could work. Just make sure there are not any nut allergies or restrictions. If you're able to make or purchase baslogh, it would be a a real treat!

5. Bring a fruit basket
Okay okay, it doesn't have to look like this, but even sending whole fruits would be great exposure for the class.  For many children, it may be their first time trying some of the fruits common on a sofreh Yalda such as persimmon, pomegranates and watermelon. Ask you child's teacher if a shared snack is permissible and if not, perhaps the teacher would be able to serve whole fruit later and you can leave instructions for easy prep such as this pomegranate hack which is great for kids. 

6. Send a take-home letter to families
Send in a short letter that children can take home to their families explaining what was presented about Yalda. This is a wonderful way to clue parents in to what their child learned and to allow them to ask questions and build conversation at home. A take-home letter is available in the FREE Yalda Classroom Kit.
Hopefully these idea empower you to contact your child's teacher and offer a presentation or resources to share about Yalda. Planning a presentation? Tag @littlepersianlearning on social media. We'd love to share your photos!
Little Persian has a mission to provide high quality Persian learning materials.  Little Persian is more than just learning materials. It is a movement to connect children and their families to Persian heritage and to one another. 
Stay connected on Facebook and Instagram and join our mailing list for occasional updates and special offers. Check out Persian learning materials, digital downloads and greeting cards at LittlePersian.com