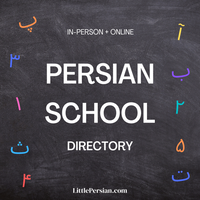 Persian School Directory
It's back to school time…check here for a 🌎list of Persian schools with in-person and online classes around the US+Canada,⭐️reasons why Persian school will benefit your child + 💭ideas on how to find a school near you if there is not somewhere close to you on the list.
The benefits of a Persian school experience for your child expand beyond just language!
Find a Persian School Near Me!
Testimonials
I believe I ordered every item Little Persian has and they are SOOOOO AMAZING! They're adorable, of impeccable quality, and the perfect visuals I needed to help my toddler learn Farsi! I can't rave about all of these flashcards and posters enough. MERCI!

Sara T.
Little Persian created every item so delicately, so beautifully - it's all just so functional.

Tina Sadri
My daughters are so engaged by these products and constantly asking me to teach them more which was not the case at all with other products that I have tried. Thank you Little Persian for allowing us to keep the Persian language alive in our family.

Dr. Sheava Zadeh, Psychologist
I'm obsessed with the Persian Alphabet Big Easy Box Set and I love it! I think I was more excited than [my son].

Zulema Massoud
My friend who I gave the Farsi fruit learning cards to messaged me this morning. She said her little boy loves learning Farsi now because of these cards...I can't tell you how happy this makes me. This is hands down the absolute best gift I have ever given. Thank you so, so much for making these.

Sam
Little Persian has the cutest exercises to help your little learn Farsi. 

Farnoosh Torabi, Host of the So Money podcast
These cards are amazing. I love them!

Negar Modarres, Styles by Negar
Little Persian learning materials are so user-friendly and well organized. The materials are developmentally and conceptually appropriate. I love that the materials are affordable and also FUN to use!

Janet Zibelli, retired teacher/tutor
I love these. The pages and cards are logical, interesting, and great looking...Thanks for making them. I'm a happy customer.

Gene
#LittlePersian
Join others using Little Persian at home. Share a photo of your Little Persian materials in use. We love seeing our products in good hands.