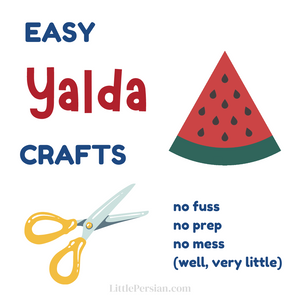 As holidays approach, children sense the excitement and have a lot of energy. Yalda crafts give children a chance to do something holiday related, add decor and play a part in the preparation for Shab-e Yalda.
All of the templates pictured are available in the Yalda Activities Digital Download that make prepping as simple as can be. You need not be crafty - all of the prep work is done for you! Your child will have hours of fun with these Yalda crafts. These are perfect projects to pull out while you prepare for the holidays. 
This craft is easy enough for toddler but still engages older children as well. Use a watermelon template and simply rip, scrunch and glue pieces of tissue paper to make this festive and fun decoration. 
Believe it or not children of most ages enjoy puppets (yes, even if you think they are too old for puppets!). Older children can cut out templates and add embellishments like eyelashes and moustaches. For the youngest children, cut out the templates and allow the child to color each fruit before adding wiggly eyes. Use eyes with self-adhesive for ease and best results.
Kids ages 3+ usually have the dexterity to try lacing cards. These ones were made simply by painting the back of a cereal box and cutting simple shapes. Older children will enjoy making the project themselves and weaving yarn through the holes. Younger children may take some time to get the hang of the up and down threading and may make a bit of a different look going straight down into each hole. If it comes out looking like a bit of a spider web at first try, that's normal!
Ripped art crafts are classics and kids love a good excuse to rip away! What makes this Yalda craft great for all ages is that even the youngest ones can complete it as there is no need for scissors. Simply rip and paste! (A glue stick is a good choice for this one.)
What better way to show up on Shab-e Yalda than wearing a watermelon crown? The template for this watermelon crown is easy to color, cut and assemble into a crown of any size. Find the template in our Yalda digital download or a grander version in the Yalda Activity Box and celebrate like royalty!
These pomegranates were glued back to back with a small strip of paper to wrap around a headband. Bring some fancy fashion to the sofreh Yalda this year!
This is an easy Yalda craft to make and adds some anticipation to the holiday if you correspond the number of paper chains to the days until Shab-e Yalda. Each day tear off a link until the night of celebration has arrived. For extra fun, add an activity written inside every paper link to complete each day e.g., eat a pomegranate, send Yalda cards, read a book about Yalda, etc. 
Decorate any wall or window with this festive Yalda garland. Kids of all ages will enjoy decorating each piece. Use crayons, markers, paint or glitter to make each piece unique! Find this template in the Yalda Digital Download.
This is such a versatile and easy way to paint for any age. Older children will be able to create a dotted look using a q-tip to dab paint. The youngest children may simply use the q-tip to more or less smear the paint, but either way - it's a fun variation on painting. Bonus: Using a q-tip helps to develop a pincer grasp necessary for so many fine motor activities and writing. Find this template in the Yalda Digital Download.
Feeling crafty? Your child most certainly is! Want to make it easy? The Yalda Activity Box includes printed craft templates, art supplies and more wrapped in a themed box sent right to your house.