Persian Holiday Gift Guide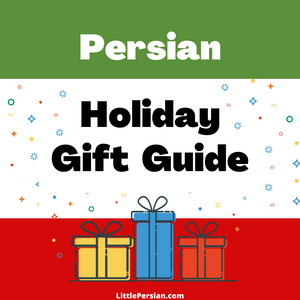 Inspired by Iranian tradition, peruse the unique gift ideas on our annual Persian holiday gift guide. Many of these are offered by small businesses for whom every small purchase makes a difference - really!
Nuch Carrot Jam
Nuch is a family owned company make small batch organic carrot spreads with traditional recipes passed down from the founder's grandmother. Three varieties including Pistachio and Saffron, Rose and Orange Peel and Cardamom and Almond make for the most delightful and versatile spread.
Woman Life Freedom apparel
Support Iranians with apparel proclaiming "Zan Zendegi Azadi/Woman Life Freedom" like the shirt pictured designed by Misha Zadeh. (available in sizes from infant-adult)  Free Iran apparel offers a monochromatic design on shirts, hoodies and trucker caps. Lebas NYC has made a shirt that honors the Kurdish heritage of Mahsa Amini and so many others in this movement with a Jin Jiyad Azadi shirt and tote bag. All proceeds from these shops support causes directly related to supporting the Women Life Freedom movement.
Exquisite Tea 
Shafa Blends offers loose leaf teas like Persian Rose Garden tea (pictured) and many others that would delight any tea drinker. Handmade Nabat by Louisa Shafia would be a special treat to pair with the tea. Shafa Blends also offers fine spices and great gift sets!
Yalda Activity Box
The Yalda Activity Box by Little Persian is packed with hours of Yalda activities and crafts for ages 2-12. Beautifully wrapped in themed paper and ribbon, it will arrive by mail at the house of your favorite child. Add a little sparkle to Yalda this year for your child, niece, nephew or grandchild with games and crafts like Mr. Pomegranate puppet, a Yalda garland, watermelon crown and more. All art supplies are included in the Yalda Activity Box for guaranteed fun! 
The Seven Trials of Rostam Pop-Up Book
The Seven Trials of Rostam is an incredible pop-up book that has just been released by Hamid Rahmanian. Intricately cut pages pop up to display fascinating illustrations that will capture the attention of readers of any age. This book will hold a special place in anyone's book collection.
Saffron Rice Crispy Treats
Vartamelon creates unique desserts - all inspired by the Iranian heritage of baker Varta. Some of her popular offerings are Evil Eye Cookies, Baklava Pop Tarts and one of her newest creations - Saffron Rice Crispy Treats. All will be a welcome addition to any holiday gathering or a terrific gift sent to anyone-especially that person who is hard to buy for. Order with plenty of time as items are made fresh for each order. 
Iranian Photography Print
Photographer Omid Scheybani is offering a collection of his original prints like this one of the famous Azadi Tower in Tehran. The prints range from food to architecture and everyday life in Iran and would make great gifts as framed art. All proceeds will be used to further the movement of Women Life Freedom. 
Every Iranian already has it, right? How about considering Perspolis as a gift for non-Iranians and young adults as a way to educate and raise awareness about the backdrop of current events in Iran. For more ideas of revolution related books from female voices, check out this reading list and a follow up list published by Falgoush. Consider your local book store when purchasing (give time for special orders) and support the brick and mortar businesses we want to see continue into the future.
Rice Cooker
Pars rice cookers are made especially to create a crunchy layer of tahdig and are available in multiple sizes. Seen here is a 5 cup, which is great starting size, but you'll want larger if you plan to host large dinners. Is it cheating to use a rice cooker? Some people may say so but the truth it many great cooks will use one of these to facilitate easy weeknight meals and it's a great way to introduce a novice to making a tahdig that is pretty much fool-proof. Stuck on creating tahdig on the stovetop? How about a heat diffuser (a great hack to even out tahdig made on gas ranges) or a mortar and pestle set that is just the right size for preparing saffron.
Consider a donation in someone's honor to Iranian Diaspora Collective, the group responsible for a huge marketing campaign to raise awareness of Iranian protests in NYC, LA and DC. Donations are still being collected to further digital marketing as well as possibly expanding billboard coverage into the UK, Europe. Canada. To directly impact individuals who may be striking from work, consider legally sending a direct donation. 

Free Iran Jewelry
The Free Iran Collection, a collaboration by designer Cynthia Ryan and activist Shiva Sarram features bracelets and necklaces that read "Iran" in Persian script - available in multiple colors with or without an emerald. These beautiful pieces are being offered at the cost of production in order to promote people wearing them as conversation pieces to unite and spread awareness of the #freeIran movement.
Thanks for looking and supporting small businesses. If you have found this list useful, please pass it on!
Looking for more? Check out our previous holiday lists: 2021 2020
Little Persian has a mission to provide high quality Persian learning materials.  Little Persian is more than just learning materials. It is a movement to connect children and their families to Persian heritage and to one another. 
Stay connected with Little Persian on Facebook and Instagram and join our mailing list for occasional updates and special offers.