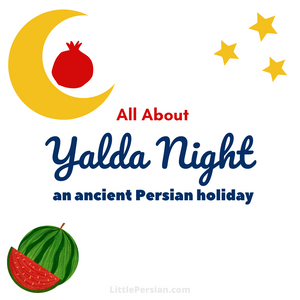 The holiday season is upon us and one special night in many homes is Shab-e Yalda, which literally translate to Yalda Night. Some of you may be wondering, what is Yalda? Read on to learn about this ancient Persian holiday. 
What is Yalda?
Yalda is an ancient Persian winter holiday celebrated on the last night of Azar until the first morning of Dey on the Persian calendar.
What does Yalda mean?
Yalda means "rebirth" (of the sun) and refers to the triumph of light over darkness.
When is Yalda celebrated?
Yalda celebrations mark the last night of autumn and continue until dawn on the first day of winter. It is a celebration of the longest and darkest night of the year at the winter solstice, after which the days will become longer and the nights shorter.
What is Yalda celebration about?
Yalda celebrates the triumph of light over darkness. The return of longer days after winter solstice was cause for celebration among ancient Persians who depended on agriculture and relied on sunshine to grow crops.
Where is Yalda celebrated?
Beyond Iran, Yalda is also celebrated in Tajikistan, Afghanistan, Azerbaijan and Armenia and in countless other countries where those among the diaspora celebrate.
How do people celebrate Yalda?
Yalda is a joyous celebration celebration with family and friends - bringing warmth to the longest night of the year with food, drink, singing, reading, games and storytelling.
What is on a sofreh Yalda?
Oftentimes, families set a table of celebrations with an ornate sofreh, symbolic items and traditional foods. Some common items include warm soup and stew, ajil (mix of nuts and dried fruit), a book of poetry or the Shahnameh, games, candles and a lot of fresh fruit that has been preserved until this night including watermelon and pomegranates - representing bounty, the color of the crimson sun and providing immunity during the winter.
What is Yalda?
It is a night to gather with friends and loved ones to bring warmth to the longest, darkest night of the year. It is a night of love and laughter and brings hope for lighter, longer days ahead. 
Be sure to check out our Yalda Activity Box Set for an all-inclusive box set for children of all ages, Yalda Digital Download and get your copy of our FREE Yalda Classroom Kit. 
Little Persian has a mission to provide high quality Persian learning materials.  Little Persian is more than just learning materials. It is a movement to connect children and their families to Persian heritage and to one another. 
Stay connected on Facebook and Instagram and join our mailing list for occasional updates and special offers.
Check out Persian learning materials, digital downloads, and greeting cards  at LittlePersian.com