All About Sizdah Bedar for Kids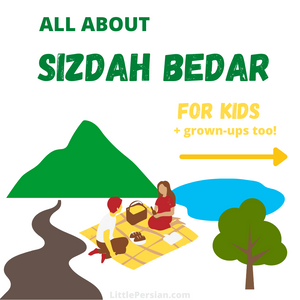 What is Sizdah Bedar?
Sizdah Bedar is a day of celebration marking the end of Nowruz.
 When is Sizdah Bedar celebrated?
Sizdah Bedar is celebrated on the 13th day of Farvardin - the first month on the Iranian calendar. It marks the end of Nowruz celebrations.
What does Sizdah Bedar mean?
"Sizdah" means 13 and "Bedar" means to get rid of something. Since the number 13 is sometimes considered unlucky, this phrase refers to getting rid of the unlucky. 
How do people celebrate Sizdah Bedar?
The most common way to celebrate Sizdah Bedar is by spending the day outdoors with family and friends. Most often, people are found having a picnic in nature and generally enjoying the outdoors and the weather that the new season of spring has brought. 
How can I make this a tradition in my family?
 Having a picnic together is an easy way to celebrate but there are many other ways as well!
How else do people celebrate Sizdah Bedar?
Tossing the Nowruz sabzeh from their haft-sin into a body of water
Tying a knot in a sprout from the Nowruz sabzeh and making a wish before tossing it into the water
Preparing traditional foods such as ash-e doogh
Drinking chai or sekanjabin
How can children celebrate Sizdah Bedar?
Help to prepare a picnic basket
Partake in family events outdoors
Invites friends to join a picnic or play outdoors
Help to prepare food and drinks
Toss sabzeh in the river
Color or prepare spring crafts
Find additional ideas and resources on how to celebrate Sizdah Bedar with Kids here and a coloring sheet for Sizdah Bedar inside the Nowruz Activities Digital Download.
Little Persian has a mission to provide high quality Persian learning materials.  Little Persian is more than just learning materials. It is a movement to connect children and their families to Persian heritage and to one another. 
Stay connected on Facebook and Instagram and join our mailing list for occasional updates and special offers.
Check out Persian learning materials, digital downloads, greeting cards and Nowruz Collection at LittlePersian.com