How to Celebrate Sizdah Bedar with Kids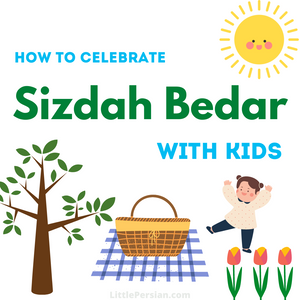 Sizdah Bedar is naturally a very kid-friendly hoilday but you may be wondering how else to celebrate Sizdah Bedar with kids. Here are a few great ideas to add some extra excitement to the day for little ones.
Picnic Together
It need not be fancy! Grab a blanket, tablecloth or sheet and pack a bag lunch. Foul weather? Spread it out indoors. Promise it will be tons of fun for your little one to picnic inside, too!
Take a Nature Walk
Hit the trail! (or the sidewalk) Get out in nature in one form or another. If you don't have the time or schedule to fit a picnic, take a walk together through a park or the neighborhood.
Throw Your Sabzeh
It's traditional to take the Nowruz sabzeh from the haft-sin and throw it into a body of water - preferably one that is moving. This can be something fun to do at the same place every year or you can make it a point to find a new river or lake each year. Take a camera and document this fun experience.
Make a Wish
Young ones traditionally tie a knot in a sprout from the Nowruz sabzeh before tossing it into water in order to gain good luck in finding a spouse. Young ones can try this tradition by making a wish of choice when tossing their knotted sprout.
Plant Flowers
It's perfect timing to get some flower bulbs in the ground like Dahlias (so long as you're past the last frost). If you aren't an avid gardener, plant some flower seeds to grow in a window sill such as Pansies, Marigolds or anything else you'd like to plant once things warm up outside.
Color or Craft with a Spring Theme
Color a springtime picture or work on a nature or flower-themed craft to celebrate and decorate Sizdah Bedar. Find Sizdah Bedar coloring pages in the Nowruz Activities Digital Download or try a spring-themed craft.
Cook Together
Ash-e doogh is a traditional yogurt soup often enjoyed on this day. Make it extra special by following a recipe  and preparing it together ahead of time. 
Have a Drink
Tea or "chai" is traditionally brought outdoors but if that's not feasible, try preparing Sekanjabin -a tradional Iranian drink made with vinegar, honey and sometime mint that is often enjoyed with lettuce. Check out a traditional recipe for Sekanjabin or try a variation with cucumber. Either way, be sure to serve with fresh, crisp lettuce!
Hopefully this list has given you some inspiration to begin or add to Sizdah Bedar traditions with your family! 
Read more about Sizdah Bedar and find a coloring sheet for Sizdah Bedar inside the Nowruz Activities Digital Download and Nowruz Activity Box,
Little Persian has a mission to provide high quality Persian learning materials.  Little Persian is more than just learning materials. It is a movement to connect children and their families to Persian heritage and to one another. 
Stay connected on Instagram and Facebook and join our mailing list for occasional updates and special offers. Check out Persian learning materials, digital downloads, greeting cards and Nowruz Collection at LittlePersian.com