How to Celebrate Mehregan with Kids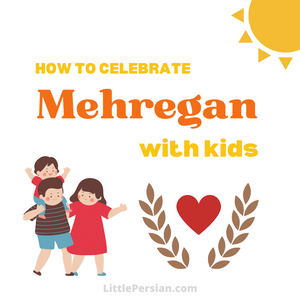 Mehregan is an old Persian festival that takes place each fall. Our last blog post, What is Mehregan, covered the basics of when, why and how it is celebrated. Now let's take a look at how to celebrate Mehregan with kids using some simple ideas to turn the focus to nature, gratitude and kindness and a FREE download for you to use at home. 

 Hit the trail or a sidewalk, but get out in nature in one form or another. Take note of the changes due to the arrival of autumn and perhaps forage some fall leaves, pinecones or other items to add to a Mehregan table-spread.
Mehregan with my Grandma by Anahita Tamaddon is great because the story is written in both Persian and English.

Try a fall related craft or download our FREE Mehregan digital download for a Mehregan coloring page.  

Hit the grocery or farmer's market and check out fall fruits that are in season to make a fruit basket or arrangement on the table.

Sharbat is a traditional Iranian drink that can be made in a variety of ways, often times including rose water as an ingredient. Try one of these variations with your child: 
Setting up a table for Mehregan begins with a traditional tablecloth or sofreh, often times purple on Mehregan. The table is set with autumnal fruits, flower, symbolic items and dried nuts, fruits and seeds which are sometimes thrown in celebration. 
Check our FREE Mehregan digital download for a checklist to help guide your child while making a Mehregan themed table-spread.
Long ago, people would share part of their harvest with less fortunate. It is even said that the king would gift his summer clothes, replacing them with new clothes for fall. 
There is definitely a spirit of thanksgiving and giving associated with Mehregan. Use this time as an opportunity to talk to your child about charity and try to offer a chance to give charitably first hand.


Our FREE Mehregan digital download contains activities to celebrate Mehregan with children of any age. 
Little Persian has a mission to provide high quality Persian learning materials.  Little Persian is more than just learning materials. It is a movement to connect children and their families to Persian heritage and to one another. 
Stay connected on Facebook and Instagram and join our mailing list for occasional updates and special offers.
Check out Persian learning materials, digital downloads, and greeting cards  at LittlePersian.com