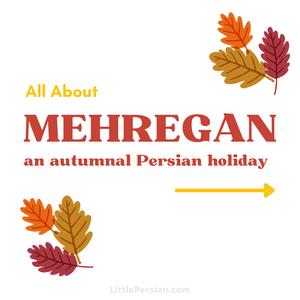 What is Mehregan? This Persian festival is an autumnal celebration recognized widely by Zoroastrians and increasingly among the diaspora worldwide. Here are a few things to learn about Mehregan and a FREE digital download you can use at home to kick off celebrating with your child.

What is Mehregan?
Mehregan is an autumnal Persian holiday celebrating the beginning of fall and harvest. 
What is celebrated during Mehregan?
Zoroastrians celebrate the deity Mehr (or Mithra) the god of friendship, love and affection. Secular observers celebrate Mehregan as a harvest festival marking the beginning of autumn.
How do people celebrate Mehregan?
It is common to set up a sofreh with traditional items and spend time around it with family.  It is said that long ago the king would give away his summer clothes and replace them with fall clothing and often people carry a tradition of buying something new to wear. Fall fruits are in abundance to represent fall harvest and often sharbat or pomegranate juice is taken with one another. Depending on the area, some communities celebrate Mehregan with great fanfare including festival like celebrations. 
Other traditions include applying sormeh-dan eyeliner, praying, throwing seeds in celebration and offering gift of charity to those who are less fortunate. 
What items are on a sofreh for Mehregan?
Commonly purple is used to cover the table and it is adorned with dried marjoram. Atop the table it is common to find fall fruits: pomegranates, grapes, apples among others. Symbolic items may include a mirror, coins, water, grains, a candle and incense. Flowers add decor. Ajil (a mixture of nuts and dried fruits) and sweets will be shared with friends. 

When is Mehregan celebrated?
This can be a little confusing as it depends on whether someone is referring to an Iranian calendar or a Zoroastrian calendar, but there is some consensus to celebrate on the 196th day of the Iranian calendar or 195 days after the new year. This is the first day of the month of Mehr on an Iranian calendar. (Learning about the Iranian calendar can help to make remembering Persian holidays much easier since many of them correspond to the first day of a particular month.)
Why is it celebrated then?
Mehregan is a name-day feast: observed when the day-name and month-name dedicated to a particular divinity intersect on the Zoroastrian calendar - in this case Mehr. There has been some consensus to use one date (the 196th day) from the Irianian calendar to avoid confusion. 

Where do people celebrate Mehregan?
Zoroastrians in Yazd and Kerman continue to celebrate Mehregan with great fanfare although many celebrate the holiday throughout Iran and in other countries all over the world including Iranian-Americans.

What is it important to remember on Mehregan?
What is Mehregan? It is a time to celebrate light, kindness, friendship and love. Show gratitude for nature's bounty and enjoy the harvest. Give to those who are less fortunate.
Little Persian has a mission to provide high quality Persian learning materials.  Little Persian is more than just learning materials. It is a movement to connect children and their families to Persian heritage and to one another. 
Stay connected on Facebook and Instagram and join our mailing list for occasional updates and special offers.
Check out Persian learning materials, digital downloads, and greeting cards  at LittlePersian.com