Learn Persian: 3 Lifelong Benefits Your Child Will Gain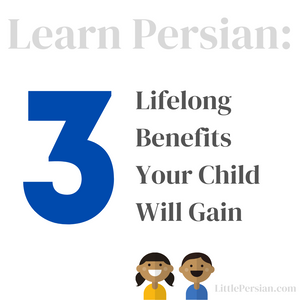 Do you use Persian with your children? Have you contemplated it?
If you feel like you just don't have the time to learn Persian, be sure to read #2.
Read on to discover three RESEARCH driven benefits and see if any of them resonate with you.
1. Brain Power
We all know that learning more than one language has cognitive benefits, but to learn Persian as child has significant benefits. 
Research shows that children exposed to two languages have increased executive functioning skills -
 mental skills that include working memory, flexible thinking, and self-control. Those skills can lead to enhanced academic success.
There is even

 reason to believe that exposure to a second language in the earliest months of life makes a difference in attention. Wow!

 
2. Identity
Having a strong cultural identify plays an important role in building many children's self-image and self-esteem. There are many ways to build a cultural identity but language is central.
"He said that if culture is a house, then language was the key to the front door; to all the rooms inside. Without it, he said, you ended up wayward, without a proper home or a legitimate identity." -Khaled Hosseini
You do NOT need to teach your child to read and write or even converse in Persian to enhance cultural experiences - a little Persian vocabulary goes a long way in making a deeper connection to culture, history and to one another.
3. Connection
This one...THIS ONE...is SO IMPORTANT! Just think of the ways that language connects a child: to family, to culture, to history, to each another...
Giving children touchstones to their cultural heritage provides not only a sense of identify, but also a sense of belonging within a larger community.
And when children are a part of a larger community, they thrive!
Learn Persian!
You can learn Persian any way you like and it doesn't have to be all in. Just find time when you can to sprinkle in a little bit here and there. Little Persian has great beginner resources to introduce basic vocabulary and by doing so your child will still get to reap some of these wonderful benefits!
Little Persian has a mission to provide high quality Persian learning materials to English speaking families. Little Persian is more than just learning materials. It is a movement to connect children and their families with Persian heritage and to one another. Thanks for connecting. Our children are stronger together! 
Check out Little Persian learning materials, digital downloads and greeting cards at LittlePersian.com